4 January 2014, Comments left 0, Views: 0
GoodSync Enterprise 9.7.0.1 Multilingual | 18.2 MB
GoodSync synchronizes and backs up files such as photos, financial documents, MP3s, e-mails between desktops, laptops, servers, and external drives. GoodSync is the latest software in a series of highly reliable, easy-to-use products from Siber Systems, the makers of RoboForm. It uses an innovative synchronization algorithm that offers true bi-directional synchronization.
2 January 2014, Comments left 0, Views: 0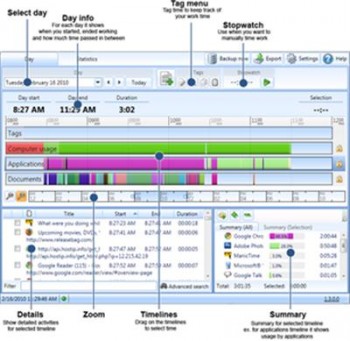 ManicTime Professional 2.5.1.3 Multilingual | 7.1 MB
ManicTime will allow you to use automatically recorded past events to accurately track how you spend your time on your projects. With ManicTime you'll be able to monitor the PC usage and track the most often used applications.
31 December 2013, Comments left 0, Views: 0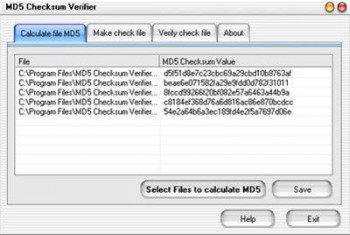 MD5 Checksum Verifier 5.0 | 1.1 Mb
MD5 Checksum Verifier is files integrity checker based on the time proven MD5 algorithms. With it you can easily create checksums of files and verify their integrity in the future. The operation is very easy, just two steps, make check file and verify check file.
28 December 2013, Comments left 0, Views: 0
http://www.imagebam.com/image/7f7090297548734

DeskSoft EarthTime 4.3.7 | 5 Mb

EarthTime displays the local time and date of any place in the world. It has a built-in database of thousands of cities worldwide but users can add any number of custom locations. EarthTime shows a map of the earth with daylight and night shadows and optionally a cloud layer with current satellite cloud data. Alarms can be set on the local time of any city in the world. Many options allow flexible customization.
26 December 2013, Comments left 0, Views: 0
http://www.imagebam.com/image/b2d0a2297178523

Mouse Speed Switcher 3.3.2 | 2 MB

Mouse Speed Switcher allows you to quickly and easily switch 3 sets of mouse settings. This is ideal for laptop users that switch between using the touchpad and an external mouse, but want a different pointer speed/sensitivity for each device.
22 December 2013, Comments left 0, Views: 0
Horas 6.32 Build 13176 | 5.2 MB
With the world becoming more connected, people are following world events, doing business, talking to family and creating friends internationally. Horas is a world clock that helps you keep track of time in different cities by displaying multiple clocks on your desktop. Horas is packed with useful features and yet, it is very easy to use. Whether you are a professional, a hobbyist or a computer novice, you will find Horas invaluable in helping you stay properly connected to the rest of the world.
22 December 2013, Comments left 0, Views: 0
Presto Transfer Ultimate 3.42 | 3.2 MB
Presto Transfer Ultimate is an application designed to help automate the transferral of your data from various common programs to another. Once installed Presto Transfer Ultimate's easy to use wizard interface creates a self-extracting transfer archive of your data which can be restored by simply running it on the destination computer. The transfer archive can be automatically burned to CD/DVD, written to a USB MP3 player, a removable drive, or simply shared across a network.
20 December 2013, Comments left 0, Views: 0
Max Uninstaller 2.1.0 | 4 MB
Max Uninstaller is the industry-leading Windows uninstaller, facilitated by highly engineered uninstall engine to effectively and thoroughly uninstall any program that the standard Windows Add/Remove Programs can't remove. In addition, Max Uninstaller technicians will resolve any of your submitted program uninstall requests, in case Max Uninstaller couldn't remove the program completely or fix the corrupt program uninstall/install errors effectively.
18 December 2013, Comments left 0, Views: 0
CompanionLink Professional 6.0 | 27 MB
Sync Salesforce CRM, Goldmine, or any other supported database with smartphones, tablets, or any Google/Gmail account. Includes all the features of CompanionLink Express, plus the ability to sync to from multiple databases, sync with up to 5 devices, and advanced sync options.
17 December 2013, Comments left 0, Views: 0
WinZip Courier 5.0 Multilingual | 37.1 MB
Free yourself from email size limits and deliver large files safely! Courier integrates seamlessly with your email system to automatically zip and encrypt outgoing attachments as you work. Simply write an email, attach as many files as you need, and click Send-Courier will take care of the rest! Files still too big? Courier will automatically send them via the ZipSend web service (up to 2GB per message).
16 December 2013, Comments left 0, Views: 0
HyperSnap 7.27.01 | 12 MB
HyperSnap is the fastest and easiest way to take screen captures from Windows screen and full screen games, and text capture (TextSnap?) from places where normal text copy is not possible. HyperSnap combines the power of a first-class screen capture application with an advanced image editing utility - wrapped into one easy-to-use tool!
16 December 2013, Comments left 0, Views: 0
Sharp World Clock 6.1 | 8 Mb
Do you have friends, relatives or business partners all over the world or in different time zones? Is it important for you to know the exact time in the world - on the other side of the globe or in a different state or time zone of your own country? Is dealing with different time zones essential for your work as a manager, broker, stock trader or currency trader? Are you disappointed in slow, ad-cluttered online time services and want to try something better and more refined? How would you like a state-of-the-art, fully customizable and elegant little international world time clock program for your Windows desktop? Look no further, you have come to the right place! Sharp World Clock is probably the most sophisticated and beautiful time zone clock program for the Windows desktop, perfectly designed for the demanding private and business user.
15 December 2013, Comments left 0, Views: 0
SeaApple Aquarium Lab 2014.0.0 | 9.1 MB
Aquarium Lab allows you to keep track of you aquarium like a scientist, no degree needed. The program is built for easy data entry, and supports multiple fresh and saltwater aquariums simultaneously. Aquarium Lab Aquarium Lab is a complete aquarium tracking software package for Windows 7, Vista and XP, that will help you maintain healthy aquarium conditions.
14 December 2013, Comments left 0, Views: 0
Weather Display 10.37R Build 79 Multilingual | 34.7 MB
Weather Display is the software to get the most from your weather station. Not only does it support a huge range of stations from all the major manufacturers but it's also stacked with features and options.
11 December 2013, Comments left 0, Views: 0
TimeBell 12 | 8.0 MB
TimeBell is a application for creation of a reminder are in the one window interface. TimeBell program is simple and convenient in use. Possesses a clearinterface intuitively. The TimeBell can remind you about important events showing a notification message,by playing music, opening a document or file, or starting the program, shut down or restart PC you choice in nominated you time. Number of alarms is 30.